The Pontifical Council for the New Evangelisation is inviting dioceses and parishes across the world to take part in the '24 Hours for the Lord' initiative for 2016. The initiative was received with great enthusiasm when it was introduced in 2014 and it will be celebrated again this year from Friday 4 to Saturday 5 March.
It was suggested to dioceses that people should be able to find special opportunities during these days for prayer and the Sacrament of Reconciliation. Pope Francis himself will be participating in the initiative and will preside at a penitential service in Saint Peter's Basilica in order to place the Sacrament of Reconciliation at the centre of the Church's mission of the new evangelisation.
This year's '24 Hours for the Lord' initiative takes place in the context of the Jubilee Year of Mercy.
24 Hours for the Lord in Irish Dioceses
Irish dioceses have made arrangements for parishioners who would like to participate in the '24 Hours for the Lord' initiative. Please check diocesan websites for information on the event closest to you. Here are some events which are planned:
Diocese of Achonry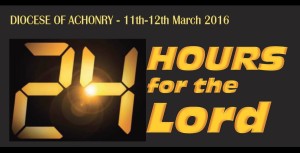 In the Diocese of Achonry the 24 Hours for the Lord with take place on 11 and 12 March. For more information see their website.
Diocese of Elphin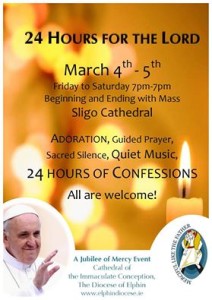 Diocese of Kildare and Leighlin