Accord has released new figures today for its marriage preparation and counselling services for 2018. These figures were released today as part of the annual blessing of an engaged couple at the Shrine of Saint Valentine in Dublin ahead of the Feast of Saint Valentine this Thursday, 14 February.  Bishop Denis Nulty, President of Accord Catholic Marriage Care Service CLG, blessed engaged couple Ms Emer Duffy from Rathfarnham, Dublin 16 and Mr Killian Casey from Ballyboden, Rathfarnham, Dublin 16 at the Shrine of the holy relics of Saint Valentine in the Church of Our Lady of Mount Carmel, Whitefriar Street, in the Archdiocese of Dublin.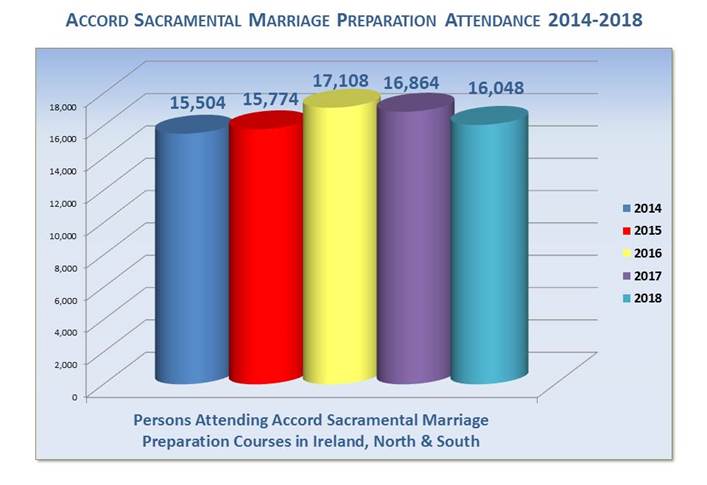 Also published today is new research undertaken by Maynooth University analysing 'Client Demographics, Needs Assessment and Outcomes' and which is based on feedback from Accord counselling sessions.
Accord returns for 2018 show that 16,048 people attended Accord marriage preparation courses last year and 87 per cent of couples attending found information and discussion on sacramental marriage, and commitment to each other the most beneficial elements of their course.
In 2018, Accord also undertook 24,153 counselling sessions. Accord specialises in the skill of "couple counselling" which involves the counsellor supporting the relationship, as well as the individuals. Issues that arise frequently in counselling sessions include communication and emotional intimacy issues, family conflict, concerns about separation, criticism and insults, use of digital technology, loss or grief, addiction, finances and problematic behaviours.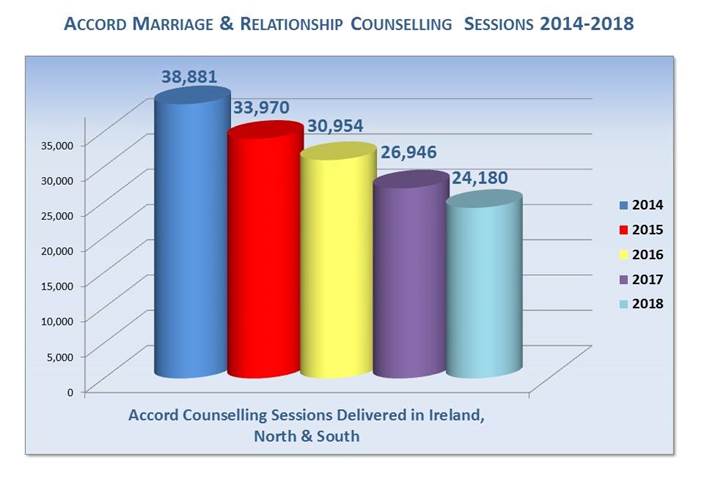 The first Accord centre in Ireland was established in 1962 at Saint Mary's Parish, Belfast, in the Diocese of Down & Connor.  Up until recently Accord was an agency of the Irish Catholic Bishops' Conference and operated as an unincorporated association.  Since 2017, Accord Catholic Marriage Care Service has changed its governance structure to operate as three distinct companies limited by guarantee.
These companies are known as Accord Northern Ireland Catholic Marriage Care Service CLG (Accord NI CLG); Accord Dublin Catholic Marriage Care Service CLG (Accord Dublin CLG); and, Accord Catholic Marriage Care Service CLG (Accord CLG) which represents 34 Centres in the Republic of Ireland and Central Office in Maynooth.
The three Accord companies currently operate in 54 centres throughout the island of Ireland – north and south – and are committed to providing a professional service serving the pastoral needs of individuals at different stages in their development in schools, through Relationship and Sexuality Education programmes; by helping couples prepare for the sacrament of marriage; and through providing support for couples and individuals through its marriage and relationship counselling service.
Accord's marriage facilitators and marriage and relationship counsellors come from a wide variety of backgrounds and are trained and work under supervision in accordance with best practice.  Tusla, the Child and Family Agency (RoI) is a major funder of the two Accord companies in the Republic of Ireland.  Accord CLG also operates with the support of the Health Service Executive (RoI) and in Northern Ireland some funding comes from the Policy Unit of the Department of Health, Social Services and Public Safety (NI).
Click here to read more about the Accord figures. For information on Accord and its services see www.accord.ie.
ENDS