Archbishop Diarmuid Martin, Archbishop of Dublin and President of the World Meeting of Families 2018 has welcomed the new set of stamps produced by An Post, Ireland's national postal service, commemorating the upcoming celebration of families and faith. The World Meeting of Families will take place in Dublin next month from 21-26 August and Pope Francis will visit Ireland to participate at the international event.
The new stamps were introduced in the latest issue of the quarterly An Post booklet The Collector and issued today 26 July.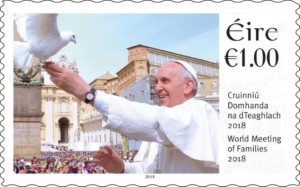 Speaking at the unveiling of the stamps Archbishop Martin thanked An Post and welcomed the publications of the new stamps. He said the stamps were a fitting tribute to what he hoped would be ''a memorable and uplifting visit of Pope Francis to the World Meeting of Families in Ireland — a visit that presents a great opportunity for the Church and the country".
Strong demand is expected for a print run of 500,000 €1 stamps, carrying an image of Pope Francis with a dove taking flight and over 100,000 €1.50, international stamps, which feature a family walking together on a beach. The two stamps are designed by Vermillion Design, based on Distillery Road, Dublin 3.
Other items being produced by An Post are a First Day Cover (FDC) envelope which will contain both stamp designs €3.50, a Mini-sheet, and Souvenir sheet with four stamps and the locations of the various WMOF events in Ireland.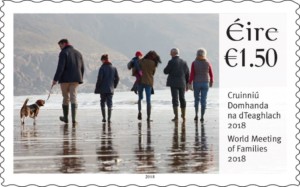 An Post is also issuing complimentary postcards with stamp purchases made from An Post at the GPO Dublin, the RDS, Phoenix Park (Parkgate Street Post Office) Knock Shrine (Knock Post Office) and special date cancels for the RDS, Phoenix Park, and Knock Shrine.
The stamps and associated material will be popular with those attending WMOF events, as a general memento of the occasion and as good-value, easy-to-carry souvenirs for family and friends. The stamps will have considerable interest for the worldwide community of stamp collectors especially those with a speciality interest in religious stamps.
The stamps will be on sale in selected Post Offices nationwide from 26 July, while specially designed First Day Covers, stamp miniature sheets and souvenir sheets will also be available from the stamp counters at Dublin's GPO and online at www.irishstamps.ie.
The full schedule for the World Meeting of Families and the itinerary for Pope Francis' visit, as well as information regarding transport and for those with accessibility requirements, can be found on www.worldmeeting2018.ie.