Knock Shrine will host their 35th annual Mercy Sunday celebrations this Divine Mercy Sunday, 23 April. Archbishop Eamon Martin, Archbishop of Armagh and Primate of All Ireland, will serve as chief celebrant and homilist at the 3pm Mass in Knock Basilica.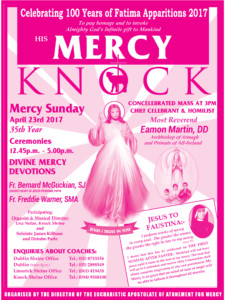 Divine Mercy Sunday celebrations ceremonies will begin at 12.45pm with Divine Mercy Devotions led by Father Bernard McGuckian SJ and Father Freddie Warner SMA. Music during the celebrations will be provided by Una Nolan of Knock Shrine joined by soloists James Kilbane and Deirdre Parle. This year's celebrations will also focus on the 100th anniversary of the Fatima Apparitions.
The Mercy Sunday celebrations at Knock Shrine take place one week before the official opening of the 2017 pilgrimage season to the National Marian Shrine, which will begin on Sunday 30th April with the Apostolic Perpetual Eucharistic Adoration Pilgrimage and Cumman na Sagart Pilgrimage. The pilgrimage season will take place from April until October. Click here for more information on the Knock Shrine pilgrimage season.
The Divine Mercy Devotion is inspired by the experiences of Saint Faustina Kowalska. The Feast of Divine Mercy was formally established by St John Paul II in April 2000. Divine Mercy Sunday celebrations will take place across Ireland, including celebrations in Newry Cathedral in the Diocese of Dromore, beginning at 2.45pm; in the Cathedral of Ss Peter and Paul, Ennis, in the Diocese of Killaloe, beginning at 2.15pm; and in St Patrick's Cathedral, Armagh, beginning at 2.30pm.