Next week on Tuesday, 25 April, the Council for Vocations is organising a conference on Evangelisation and Vocations in Renehan Hall, Maynooth.  There is no charge for attending but places are limited.
Archbishop Rino Fisichella, Pro Prefect of the Dicastery for Evangelisation, will be the keynote speaker. In addition to Archbishop Fisichella, there will be a panel of expert speakers including Ms Wendy Grace, Bishop Cullinan, Father Brendan Kilcoyne, Dr Gavin Ashden and Ms Jennifer Kehoe.
The conference is a prelude to the start of the national 'Year for Vocation to the Diocesan Priesthood' on Good Shepherd Sunday, 30 April, with the theme: Take the Risk for Christ.  RTÉ One will also broadcast Mass at 11.00am on Good Shepard Sunday to launch the Year for Vocation.  For the next twelve-months, the National Vocations Office will host vocation events in parishes and at pilgrim sites around the country, and provide vocations resources for homes and schools.
Please register directly on www.vocations.ie, or contact the National Vocations director Father Willie Purcell at willie.purcell@iecon.ie or Rev Eric Cooney secretary of the National Vocations Office at eric.cooney@iecon.ie.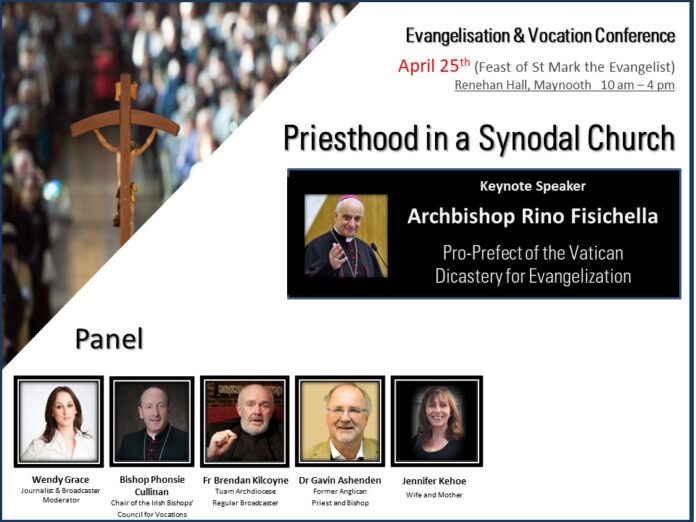 ENDS