Bishop Denis Nulty, Bishop of Kildare and Leighlin, will launch a new setting of the Mass by Kildare composer Padraig Meredith on Sunday 26 February. Mass of the People will be presented for the first time in Saint Conleth's Parish Church, Newbridge, Co Kildare and it will be performed for the first time by local choir 'In Caelo' under the baton of Cora Coffey, Musical Director.
Mass of the People includes new settings of the pieces sung/spoken at every Mass – the Kyrie, the Gloria, the Gospel Acclamation, the Holy Holy, the Memorial Acclamation, the Doxology & Great Amen, and the Lamb of God. The Mass will also feature two additional pieces by Padraig Meredith including the first performance of a new psalm entitled In God Alone and a new Communion hymn Our Blessing Cup which will be performed by soloist Teresa Lynch.
Commenting on how he came to write the new Mass setting, composer Padraig Meredith said, "The Mass came about through my long association with 'In Caelo' choir and their Musical Director Cora Coffey. I have written many Church pieces, but I never had the kind of response from performers which I receive every time I bring 'In Caelo' a new piece. I wanted to thank the choir for their support over the years by composing a special piece for them, but that didn't seem enough so I decided to compose an entire Mass setting for them. The setting is called Mass of the People because it is a gift not just for 'In Caelo', but for all the parishioners of Newbridge.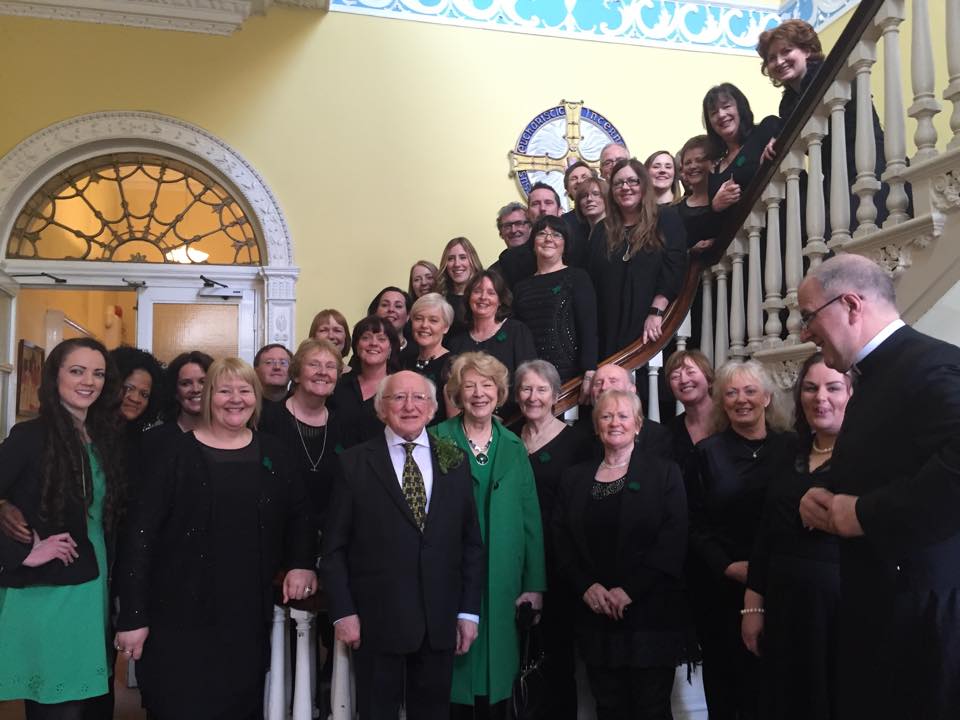 Padraig went on to say, "I have worked in Newbridge Parish for the past twenty-four years, first as an altar server, then as a junior sacristan, as a helper on the annual Lourdes pilgrimage, and as a choir member singing with the tenors in 'In Caelo'. I went on to play piano for 'In Caelo' and eventually turned to composing for them.
"I have proudly represented Newbridge Parish at four World Youth Days in Toronto, Cologne, Sydney, and Madrid. Outside of our diocese I have also represented our parish at the 50th International Eucharistic Congress in Dublin in 2012 as a pianist and member of the chamber choir, and I also composed the official anthem for the Dublin Archdiocese Year of Evangelisation."
Padraig went on to share some of the spirit of his local parish, saying, "Newbridge parish has a spirit which is unlike another parish. I love liturgy, all types of liturgy, from the joy of a Christmas Eve or Easter Saturday liturgy, to the sombre and muted mood of Good Friday. Whether it is a joyful or a sombre occasion Newbridge parish is able to achieve in communicating a warm, peaceful, calm, and reflective mood. Our parish church is a place of welcome, light, warmth, and heart. My Mass setting tries to capture the various moods of the Church calendar. Each piece has a separate character which matches the tone of that moment in the liturgy where it is placed. The Mass setting tried to achieve a goal of being inclusive for all the congregation by (hopefully) being 'singable' by everyone. Hopefully the congregation will leave the liturgy happy and humming!"
Speaking ahead of the launch of the new Mass, Father Paul Dempsey, Parish Priest of Saint Conleth's Parish, Newbridge, said, "Sunday, 26 February marks a significant day in our parish diary as we launch Padraig's Mass of the People.  Down through the years Padraig has been most generous in giving of his time to enhance the liturgy in the parish through his musical talent.  He is a very gifted musician and we are extremely fortunate to be able to draw on this giftedness in Saint Conleth's.  As the Church faces many challenges in a changed and changing culture, many people drift along as many familiar anchors in society have disappeared.  As a Church we must respond by inviting people to participate in the liturgy –  a liturgy that is vibrant, joyful and well prepared, a liturgy that will touch people's hearts and help them experience the deep love of Jesus Christ.  Good music is critical to this and contributes to the Eucharist being the 'summit and source' of the Church's life.  Through his new Mass setting, Mass of the People, Padraig is making a major contribution to the life of the Church in Ireland today.  I wish him every blessing and thank him for sharing his gifts so generously with us here in Saint Conleth's Parish."
The Musical Director of 'In Caelo' is Cora Coffey, and the ensemble for Sunday 26 February will include composer Padraig Meredith on piano, Caroline Sutton on violin,  Derek Duffy on guitar, and Mary Farrell on Irish Harp.
Commenting ahead of the launch Cora Coffey said, "In Caelo has come a long way since it began in 1997. Myself and Padraig were original members of the choir. We all knew that Padraig was destined for greater things and he has proved us right! 'In Caelo' are honoured that he has chosen us to perform his beautiful new Mass setting.  I wish him every success for the future and 'In Caelo' looks forward to many more collaborations with him."
Padraig Meredith studied music earning a B.Mus. degree from UCD, a G.Dip.Ed (Music) from University of Limerick, an ADV.Dip.PD (Inclusive Education) from Queens University Belfast, and an M.Mus. Masters in Musicology from UCD. He works as the Music Teacher at the Holy Family Community School, Rathcoole, and spends the rest of his time working as an accompanist and session musician in a variety of genres from Church to choral to rock music. He composed the theme song for the Dublin Diocesan 'Year of Evangelisation' called Raise Your Voice. He also composed the score for the Irish dance and musical theatre work The Cloak, along with writer Padraig Dunne, which is based on the life of Saint Brigid.
'In Caelo' is one of the parish choirs in Saint Conleth's Parish in the Diocese of Kildare and Leighlin. The choir has been in existence for almost 20 years. The choir of 44 members comprises men and women from Newbridge and surrounding areas. 'In Caelo' is a four part harmony choir and they sing at the 12.30pm Mass in Saint Conleth's Parish Church every second Sunday.
For more on Mass of the People see www.newbridgeparish.ie.
ENDS