Monsignor Hugh Connolly of the Diocese of Dromore has been appointed as Chaplain to the Irish College in Paris. He will take up his new post on 1 September next and succeeds Father Dwayne Gavin of the Diocese of Meath. The announcement came yesterday as the bishops concluded their three day Summer General Meeting at the Columba Centre, Maynooth, Co Kildare.
Monsignor Connolly is a fluent French speaker and has served on the Fondation Irlandaise, the Governing Body of the College des Irlandais, for ten years. Monsignor Connolly's pastoral duties will include ministering to the Irish Community in Paris, liaising with staff of the Centre Culturel Irlandais, assisting at the local parish of Saint Etienne du Mont and lecturing at one of the theology faculties in Paris.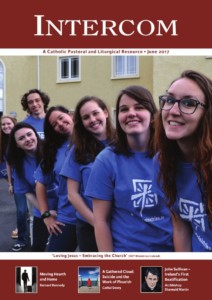 The bishops also announced the appointment of Father Chris Hayden CC, Parish of Coolfancy in the Diocese of Ferns, as the new editor of Intercom, the pastoral and liturgical resource magazine of the Bishops' Conference.
Father Hayden succeeds Fr Paul Clayton-Lea of the Archdiocese of Armagh. The bishops wished Father Hayden well in his role and thanked Father Clayton-Lea for the vision and quality of content that he has provided for Intercom during his time as editor.
Bishops welcomed the appointment by Pope Francis, on 13 May, of His Excellency Archbishop Jude Thaddeus Okolo as the new Apostolic Nuncio to Ireland.  Archbishop Okolo is expected to arrive in Ireland in August.  Bishops paid warm tribute to the former nuncio, His Excellency Archbishop Charles Brown, now Apostolic Nuncio to Albania.  Bishops acknowledged, with gratitude, the energy, enthusiasm, warmth and openness with which Archbishop Brown undertook his ministry during his time here, as well as the affection and high esteem in which he was held by the faithful throughout Ireland.
Bishops also welcomed last Friday's appointment by Pope Francis of Bishop-elect Alan McGuckian SJ as Bishop of Raphoe. Bishops expressed their heartfelt gratitude and prayerful good wishes to Bishop Philip Boyce, Bishop Emeritus and Apostolic Administrator of Raphoe.  Bishops paid warm tribute to Bishop Boyce's twenty-two years of sterling service to the Bishops' Conference, and especially for the gift of his leadership in the areas of supporting clergy and vocations.  Bishops thanked Bishop Boyce for selflessly providing, at all times, his wisdom, good humour, unfailing courtesy and an inspirational example of faith for the benefit of the Church in Ireland.
For more on the Summer General Meeting see catholicbishops.ie.
ENDS