The Irish Church Music Association is delighted to be holding its 53rd summer school in Saint Patrick's College, Maynooth, on 14 and 15 July, following a three-year break since 2019 due to Covid-19 restrictions.  The theme for this year is 'When Jesus saw the Crowds'.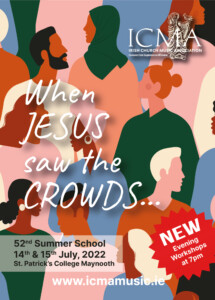 The ICMA is expecting 150 participants to gather from the four corners of Ireland for this year's gathering.  Choir directors, choir members, organists, instrumentalists and teachers involved in liturgical music in parish and school will avail of the summer school as an ideal opportunity to refresh their ministry and to learn new music in a relaxed environment.
According to the ICMA chairperson Mary Dee, "this year's summer school will involve two action-packed days of singing, prayer, learning and fun!  Delegates will meet with other musicians from Ireland and abroad and will share and participate together in the liturgy."
Information and booking options are available at www.icmamusic.ie.
The Irish Church Music Association was founded in November 1969 to support the work of musicians working in the field of liturgical music in Ireland. Through training, publication and dissemination of information, the ICMA strives to improve standards and encourage musicians in their service of God and the community.
The ICMA is supported by the Irish Bishops' Conference and is based in the National Centre for Liturgy, St. Patrick's College, Maynooth, Co. Kildare.
ENDS