A one-day conference entitled 'Climate Change and Me: Rising to the Laudato Si Challenge' will take place at Knock Shrine on Saturday 30 April. The event is being planned and co-ordinated by the Faith Renewal team at Knock Shrine, headed by Father Richard Gibbons, in response to Pope Francis' encyclical letter, 'Laudato Si', which highlights the great need for discussion and debate about the issue of climate change.
Pope Francis' Encyclical Letter Laudato Si, on care for our common home, was published on 18 June 2015. In his encyclical Pope Francis posed the question:"What kind of a world do we want to leave to those who come after us, to children who are now growing up?"
Father Richard Gibbons, Rector of Knock Shrine, has spoken about the enormous significance of Laudato Si, "Laudato Si encourages open and honest debate about the pressing contemporary issue of climate change and we hope to really engage people and get them thinking and talking about climate change. In essence, what we really want is to create a buzz and it is our intention that this will be one of many such events at the Shrine in the coming years.
"By organising an event in our own community, we hope the event will appeal to a wide audience, from schools and universities to tidy town committees to people who simply want to make a positive change in their everyday lives."
The conference will feature John Sweeney, Professor of Geography and Head of the Irish Climate Analysis and Research Unit (ICARUS) at NUI Maynooth, as keynote speaker who will deliver a lecture on the science of climate change and contemporary thought in this area. Speaking ahead of the conference Professor Sweeney said, "Time is running out for taking decisive action to avoid dangerous climate change. As individuals and a society our ethical responsibilities demand we take seriously what is generally agreed to be the major problem of the 21st century."
Also attending and speaking at the conference will be eco-theologian, Father Sean MacDonagh who delivered a very successful talk in Knock last November, as well as Joanne McGarry, Trócaire Campaigns Officer.
The conference will offer a mix of interesting and engaging elements as there will be a range of talks on 'back-garden environmentalism', which will focus on offering practical advice on issues such as such water conservation, recycling and sustainable living. This event will also include speakers on sustainability to offer advice on how to make changes in our everyday lives and communities. There will be exhibition stands on the day from the Irish Beekeepers Association and Green Sod, amongst many other environmental groups.
Ann Lavin, head of horticulture at Knock Shrine and one of the organisers of the event said, "It is a chance to get people together to grow awareness and start a discussion about climate change in our area. So much can be achieved by simply being more mindful and respectful of the resources we use every day. Although it's a very worrying topic, the conference is really positive start in addressing the issue."
The conference is supported by Mayo Day, Trócaire and Knock Community Futures.
The conference will take place in the Rest & Care Centre from 10.ooam to 4.00pm. Registration is €10 and there is no charge for students. To find out more go to www.knockshrine.ie/climatechange or call + 353 (0) 93 88100 for booking.
Download the conference brochure below.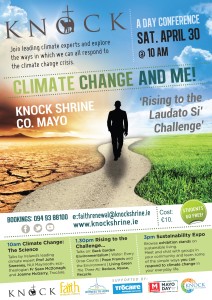 ENDS