Saint Colman's Cathedral in Cobh, Co Cork has launched a unique opportunity for visitors to experience their very own Camino spiritual journey.
The newly launched Cathedral Camino is inspired by the popular Camino or 'Way' to the Shrine of Saint James the Apostle in Northern Spain. This shrine is also known as Santiago de Compostela. Walking 'the Way' has seen a resurgence of popularity in recent years.
Visitors to Saint Colman's Cathedral can embark on a journey of rediscovery, marked by nine scallop shells, representing the seven sacraments as well as the call to religious life and our journey to eternal life through death and resurrection.
While doing their Cathedral Camino journey pilgrims can spend as much time as they like at each scallop, perhaps remembering those preparing for sacraments or give a prayer of gratitude for receiving each sacrament but praying for vocations at scallop numbers six and seven.
Cathedral Camino leaflets are available at the first scallop shell located at the Baptismal shrine, on the left hand side aisle of the entrance to the cathedral.
The Cathedral Camino is one of a number of initiatives being offered as part of the Centenary of the Cathedral this year.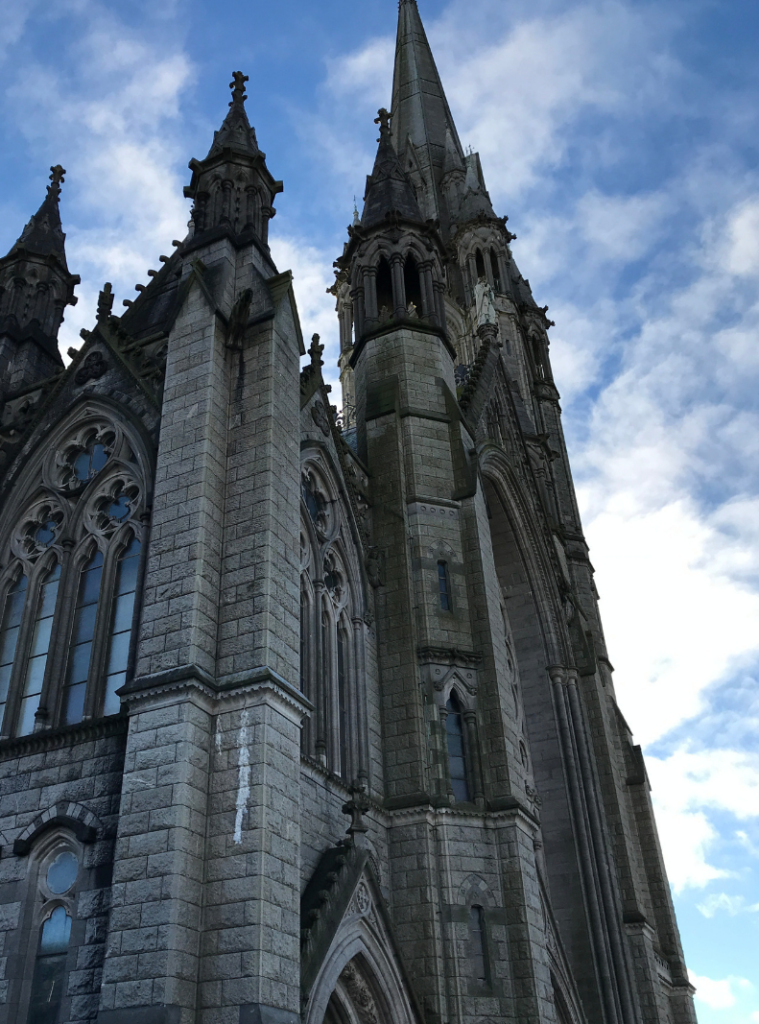 Saint Colman's Cathedral was built over a 47-year period from the laying of the foundation stone in 1868 to its completion in 1915, at the cost of €235,000. It is a neo-Gothic Pugin Cathedral. It was designed by architects EW Pugin, and GE Ashlin who later partnered with TA Coleman for the completion of the cathedral. The consecration took place on 12 August 1919. Solemn commemoration ceremonies took place on 24 August 1919 presided over by Cardinal Logue.
Saint Colman's Cathedral boasts a Carillon of 49 bells, the largest carillon in Ireland and Britain in terms of the number of bells. This was installed in 1916 and weekly recitals from this magnificent Carillon can be heard from all over the town. The Cathedral also houses a Telford & Telford Pipe Organ, often described as a 'national treasure'. This pipe organ has undergone a major restoration project over the past three years in Padua, Italy and has been returned just in time for the Centenary celebrations. The whole cathedral has recently completed a major interior cleaning project of all its stone work, carvings, and mosaics.  All the work of restoration was made possible by the generosity of the people of the diocese.
Saint Colman's Cathedral has been welcoming visitors through its doors during this very special centenary year for Masses and many other events and extends a warm welcome to all to take part in the new Cathedral Camino.
For more see www.cobhcathedralparish.ie.
ENDS