Archbishop Diarmuid Martin of Dublin and Archbishop Michael Jackson, Church of Ireland Archbishop of Dublin and Glendalough, visited the new DIT Campus in Grangegorman yesterday for a ceremony in advance of Saint Patrick's Day, which included the 'Blessing of the Shamrock'. Over 100 people attended the ceremony, including DIT students and staff; HSE patients and staff; and neighbours and friends. The shamrocks were distributed to students, staff and visitors to the campus.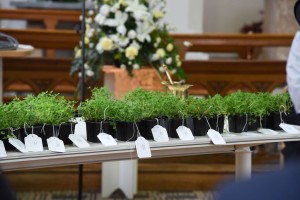 The ceremony took place in Saint Laurence's which has functioned as a church for the many residents of Grangegorman Hospital over the years and continues to serve the new and emerging community in the area.  Speaking during the ceremony, the Coordinator of the Chaplaincy Service, Father Alan Hilliard said, "This ceremony highlights our rich Irish heritage which is of interest to our increasingly diverse campus population and those of Irish heritage." "The aim of the chaplaincy," he continued, "is to offer a space in Saint Laurence's where people from various ethnic and religious backgrounds can celebrate their various national and religious festivals in the future, thus giving them a sense of being 'at home' in a new location". He explained "Over the next number of  years we will see some 2,000 students living on Campus and every effort will be made through a range of activities by various college based groups to accommodate and enrich the students overall educational experience".
He thanked both Archbishops for their interest in initiatives that support transition to the new campus in Grangegorman and their interest in student welfare. He concluded, "Both men have a clear vision of the important role that third level institutes play within civil society".