A group of parishes in the Dublin Archdiocese will gather together on Holy Trinity Sunday, 11 June, for a 'mini-Camino' walk through Dublin City. 'Parishes Walking Together' is a cluster initiative of the parishes of Chapelizod, Palmerstown, Ballyfermot Assumption, Saint Matthew's Ballyfermot and Cherry Orchard Parish in Dublin.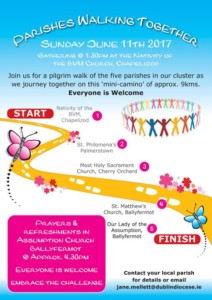 The Parishes Walking Together' initiative began in 2012 to mark the 50th International Eucharistic Congress and also to raise awareness of the parish cluster group and to help build a sense of community and working together.
The 'mini-Camino' is approximately 9km in total, and each pilgrim will get a special 'pilgrim passport' at the beginning of the walk. At each church along the way, pilgrims will stop for prayers and reflection, as well as water, and will have their passports stamped.
This year's walk begins at 1.30pm at the Nativity of the Blessed Virgin Mary Church, Chapelizod, and will finish in Our Lady of the Assumption Church in Ballyfermot.
For more information on 'Parishes Walking Together' see www.dublindiocese.ie.