Father John Murray, the Parish Priest of Downpatrick Patrick, Co Down, has written a new book offering saintly inspiration for everyday life. Saints for the Journey – Inspiring Lives From Every Age is a collection of stories on the lives of exceptional men and women who have tried to live the Christian life down through the ages.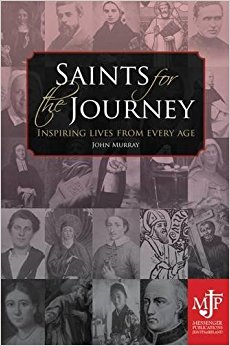 Saints for the Journey is an illuminating read for those curious about both well-known and obscure followers of the Gospel. It is an insightful look at the everyday acts of courageous people who upheld the values and principles of the Church, often without being aware they were doing so.
Some of the saints featured in the book include Ève Lavallière, a once-famous French actress, who relinquished the material trappings of her success in pursuit of a spiritually fulfilling life;  Pino Puglisi, a parish priest, who bravely stood up to the Italian mafia and paid the ultimate price; and, the tragic story of Ketari Tekakwitha, whose last words, 'Jesus I love you', were uttered just before many of the sick ayttending her funeral procession were healed.
Father John Murray recounts the stries of each of these exceptional people in a sympathetic and accessible style, which helps to portray the unique humanity of each individual.
In his foreword to the book Bishop Anthony Farquhar, the retired Auxiliary Bishop of the Diocese of Down and Connor, says, "Countless posters of celebrities from pop culture, or the worlds of sport and entertainment, may adorn many walls today, but the people in these posters will probably never know who it is that it trying to emulate them. This is not the case with saints! They too provide a model for us, but more than that, they can support us in our efforts, through their prayer of intercession on our behalf. That is why in a Litany of Saints, we ask individuals saints to 'pray for us'. These saints cal arrive in our lives by all sorts of routes; perhaps by Christian names given to us at baptism, or maybe by the name we choose for ourselves at Confirmation. Father John Murray has always shown a great talent and aptitude for selecting saints from across the centuries and from other countries, and seeing in their lifestyles those qualities that would be helpful for us in our lives."
Speaking about his latest book, Father John Murray said, "For many people the saints can sometimes seem a bit distant, with lives which don't belong to the real world. In these stories there is a genuine hope that even these men and women of faraway times, have something to teach us and something that we can aspire to even today. They are indeed saints for our journey."
Saints for the Journey – Inspiring Lives From Every Age is published by Messenger Publications and costs €9.95/£8.95. For more see www.messenger.ie.
ENDS