Ireland's youngest priest, 25-year-old Father David Vard, was ordained in his hometown of Newbridge by Bishop Denis Nulty, Bishop of Kildare and Leighlin on Sunday 25 June.
A past pupil of the Patrician Secondary School, Newbridge,  Father Vard entered the national seminary at Saint Patrick's College, Maynooth after completing his Leaving Certificate in 2010. Father David has been ordained for service in the Diocese of Kildare and Leighlin and has been appointed as a curate in Portlaoise Parish.
Speaking to a congregation of more than 700 in Saint Conleth's Parish Church in Newbridge, Bishop Nulty said, "This is a great day of celebration for David's family, his friends, Newbridge Parish and the Diocese of Kildare & Leighlin. Shortly David will become the youngest priest not only in our Diocese, but in the country and on these islands.
"Priestly Ordination is very much the living out of Matthew's gospel today in declaring ourselves for Christ in the knowledge that Christ walks with us, who are brave and bold enough to make that declaration, Christ never leaves our side."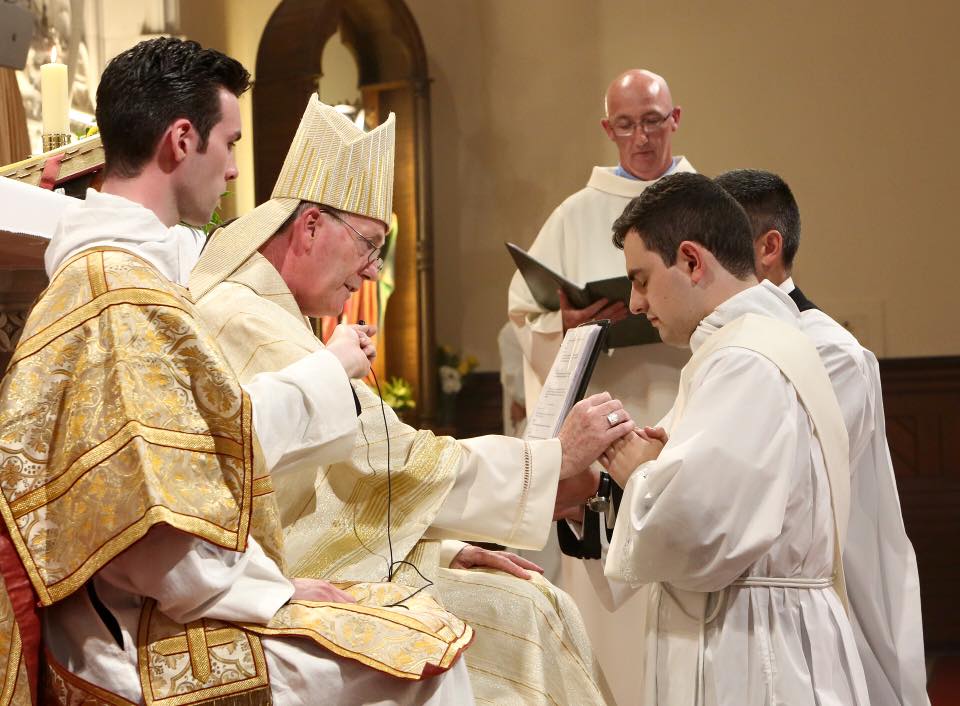 Bishop Nulty said, "A young man who pursues a vocation calling is very much stepping out of kilter with peers and friends, so much so not everyone will understand or appreciate such a vocation calling. Matthew's gospel offers us some parameters to understand the counter-cultural dimension of today's calling. It was an instruction by Jesus to the Twelve disciples, set in the context of a chapter that sees the actual naming of the disciples, the mission mandate of their calling and the reminder that persecution is part of the deal. Tough stuff, but necessary for anyone brave enough to be an alter Christus in today's world. The promise that permeates Matthew's gospel is that in the toughest times where we witness to Christ, He will never leave us.
"David is being ordained into a Diocese that will welcome him, support him and accompany him as he witnesses to Christ in tough moments and tight situations. It is easy to a priest when you don't have to deal with the tough challenging calls; it's much tougher when there are choices to be made and stands to be taken. David's vocation was nurtured very much in his family and parish setting."
Paying tribute to David's mother Elizabeth, Bishop Nulty said that her faith and example will offer him sterling example in his priesthood.
Bishop Nulty also had a special word for the Catholic schools in the parish that Father Vard attended, namely Scoil Mhuire Senior School and the Patrician Secondary School. Bishop Nulty said, "Both schools have a unique record in Ireland, as having seen three ordinations of past pupils in the past three years: Shane Daly SJ in November 2015; Ronan Connolly OP in July 2016 and today David Vard! Newbridge Parish has a very good record on vocations; it sets the bar very high for other parishes, not only in Kildare and Leighlin but indeed around the country."
Bishop Nulty went on to reflect on his recent Pastoral Letter released last Vocations Sunday entitled 'Facing the Changes and Challenges Together'. He said the letter was very much a challenge for all the baptised to understand and appreciate the full meaning of their baptismal calling. He went on to suggest that every parish in the diocese and in Ireland should have a Vocations Committee which would be a group of people who would see their role as being the key promoters of the baptismal calling of all the lay faithful and in a particular way to nourish and nurture the particular calling that priesthood involves.
Bishop Nulty said, "It is simply not true to say there are no vocations, they have to be asked, invited, prompted, cajoled. We, all of us priests, people who love their priests and parishes, parents, grand-parents have got to encourage vocations. I continue to invite young men to consider the priesthood, I did in my days in Meath Diocese as a priest and I do even more so now as Bishop in Kildare & Leighlin. I simply don't buy it that vocations aren't there, they are!"
Concluding his homily, Bishop Nulty quoted Matthews gospel "what you hear in the whispers, proclaim from the housetops" and said that there is so much good that can flow from one young man, like David today, giving his yes to ordination.
Acknowledging Father Vard's classmates from Saint Patrick's College, Maynooth and the Pontifical Irish College in Rome, Bishop Nulty said, "They are a very fine group of young men who will make a profound effect on our Church landscape. Like David they have pursued their vocation calling, in many aspects going against the grain of society and their peers, and for that we are all most grateful."
Bishop Nulty said, "We can be consumed by looking at numbers and statistics, average ages and parish sizes. Today is a day for huge rejoicing that a man whose vocation was nourished very much in a parish setting, on a parish pilgrimage to Lourdes back eight years ago. The experience of seeing people live out their Christian calling in Lourdes with the sick, at the baths, around the grotto has a profound effect on those watching from the sides. David was one of those watching from the sides. I pray that our first ever Diocesan Pilgrimage to Lourdes that leaves this day three weeks will reap even more vocations and that many more of us will have the confidence to invite someone we know and admire to seriously consider priesthood."
Father Vard's ordination Mass was attended by his parents David and Liz; his sisters: Rebecca and Charlotte; his grandmother Sheila; his niece Lily and his nephew Ryan and a large number of family, friends and parishioners. Bishop Jim Moriarty, Bishop Emeritus of the Diocese of Kildare and Leighlin was present with a large number of priests from Kildare & Leighlin and from around the country including a number of other newly ordained priests. Father Vard's classmates from Saint Patrick's College, Maynooth and the Irish College, Rome were also in attendance.
Father Vard was one of three diocesan priests ordained for service in Irish dioceses on Sunday. Father John Magner was ordained for the Diocese of Cloyne and Father Manuelito Milo was ordained for the Diocese of Down and Connor.
You can watch highlights of Father Vard's ordination on www.catholic.ie.
ENDS