On Sunday 12 June, Feast of the Holy Trinity, Father Stefano Colleouri was ordained to the priesthood by Archbishop Eamon Martin for service in the Archdiocese of Armagh.
Speaking after the Ordination Mass in Saint Patrick's Cathedral, Armagh, Archbishop Eamon offered his congratulations to Father Stefano and thanked his family for "inspiring and nurturing his vocation to priesthood".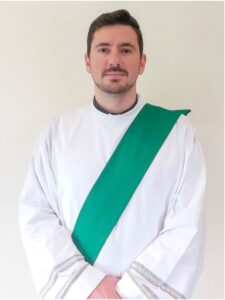 Stefano Colleluori was born 1993. He comes from Pescara (Italy). He is the third child of Donato and Teresa. He has other six brothers and two sisters. He started his formation to the priesthood in the Redemptoris Mater Seminary in Dundalk in the year 2013.
Stefano has done pastoral placement in the parish of Crossmaglen. As part of his missionary formation, he spent time in mission in Mozambique, the Holy Land and South Africa.
He was ordained deacon on 14 October 2021 and has been ministering in Moyraverty Parish since October 2020.
The Archdiocese asks that Stefano be kept in your thoughts and prayers in the coming days and that you continue to pray for him into the future.
Father Stefano is pictured here.
The main photo features Archbishop Eamon Martin, Father Stefano and Bishop Michael Router.
ENDS