The October issue of Intercom, a Catholic pastoral and liturgical resource magazine, is out now. The new issue has a special focus on mission, looking ahead to World Mission Sunday, which will be celebrated on 22 October, on the theme 'Reach out and Spread the Joy'.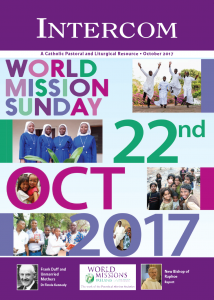 The cover of the October issue highlights the World Mission Ireland poster for World Mission Sunday.
Featured within, Father Maurice Hogan SSC, National Director of World Mission Ireland, writes on the origins and meaning of World Mission Sunday. As a special feature marking the Mission Month of October, prayer resources within the issue are offered from those involved in missionary work.
Other features in the new issue include a talk given by Dr Finola Kennedy on Frank Duff, founder of the Legion of Mary, and the Regina Coeli hostel for homeless women; an article marking the official launch in Knock of preparations for the World Meeting of Families 2018; and the first of a two-part series by Canon Edmond Cullinan on the laity as a sources of inspiration; along with the magazine's usual prayers, reflections and resources for the month of October.
Intercom magazine is a Catholic pastoral and liturgical resource of the Irish Catholic Bishops' Conference published by Veritas Group. Intercom is published ten times per year, including double issues for both July-August and December-January.
Many of the resources from Intercom are made available free on their website. These resources, along with information on subscribing to the magazine can be found on www.intercommagazine.ie.