The Palestrina Choir will return to Knock Basilica for Music for a Midsummer's Evening on Saturday 11th June at 7.00pm.
Soprano Rachel Croash, Mezzo Soprano Anne Marie Gibbons, the Marlborough Sinfonia & Organist Aleksandr Nisse join Conductor Blánaid Murphy for a wonderful evening of inspiring Irish and choral music, with classics including Danny Boy and The Minstrel Boy centred around the uplifting Vivaldi Gloria.
The Palestrina Choir had its origins in a boys' choir formed in the 1890s by Dr. Vincent O'Brien.  While maintaining an unbroken tradition of service at Saint Mary's Pro-Cathderal, Dublin, the choir has also performed at numerous State occasions, featured on radio and TV nationally and internationally, and toured to many countries including Poland, Czech Republic, Hungary and Germany.  In recognition of this, in December 2003, the Choir was awarded the much-coveted St. Cecilia Award by the Vocal Heritage Society of Ireland.  In 2012 the choir received an invitation from the Director of the Sistine Chapel Choir to join them in singing at Saint Peter's Basilica.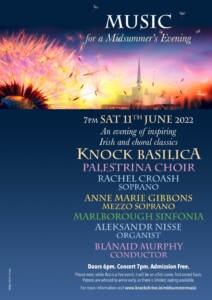 Since 2002 the Choir has been directed by Blánaid Murphy, one of the foremost choral music directors, educators and consultants in Ireland.  There are currently over 30 boys and 12 men in the choir with significant competition for annual entry.  Thrice weekly rehearsals lead to melodious harmony and choral excellence!
Dublin Soprano Rachel Croash is an alumna of the Irish National Opera Studio.  She has performed with Ireland's leading Opera Companies and Orchestras including Irish National Opera, Wexford Festival Opera, Lyric Opera Productions, the RTÉ Concert Orchestra and The National Symphony Orchestra.  International appearances include London, Edinburgh and New York.
Mayo born and based Mezzo SopranoAnne Marie Gibbons performs all over the world in some of the most renowned concert halls and opera houses, including London, Dublin, Leeds, Adelaide, Paris, Versailles, Madrid, Lausanne, Nice, New York, Sydney and Birmingham.  In Ireland she has appeared with the RTÉ Concert Orchestra, The National Symphony Orchestra, The Irish Chamber Orchestra and The Irish Baroque Orchestra.
The Marlborough Sinfonia is one of Ireland's leading ensembles.  The players in the group have formidable experience on the concert platform, in recording studios, in theatres and have played with numerous orchestras in Ireland and overseas.
Internationally renowned organist Aleksandr Nisse, is in regular demand as an accompanist and recitalist, both in Ireland and abroad. He was recently appointed Titular Organist of the Pro-Cathedral and is particularly noted for his exceptional skill at improvisation!
The concert will take place on Saturday 11 June and while admission is free, it will be on a first come, first served basis. Doors will open at 6.00pm and patrons are advised to arrive early, as there is limited seating available.
For more see www.knockshrine.ie.