Father Stu is Mark Wahlberg's new film based on a boxer turned priest, which tells the true story of Father Stuart Long.
Based on a true story, Father Stu is an unflinchingly honest, funny and ultimately uplifting drama about a lost soul who finds his purpose in a most unexpected place. When an injury ends his amateur boxing career, Stuart Long (Mark Wahlberg) moves to Los Angeles, USA dreaming of stardom. While scraping by as a supermarket clerk, he meets Carmen (Teresa Ruiz), a Catholic Sunday school teacher who seems immune to his bad-boy charm. Determined to win her over, the longtime agnostic starts going to church to impress her. But surviving a terrible motorcycle accident leaves him wondering if he can use his second chance to help others find their way — and leads to the surprising realization that he is meant to be a Catholic priest. Despite a devastating health crisis and the scepticism of Church officials and his estranged parents played by Mel Gibson and Jacki Weaver, Stu pursues his vocation with courage and compassion, inspiring not only those closest to him but countless others along the way.
The film shows how it's often those who have been through the biggest struggles in their lives, experience God's mercy the most. They also tend to be the best at sharing God's love with others.
The film also shows the Church through Father Stu's eyes, with fantastic inquisition and keenness to engage. On this journey, he discovers a new kind of strength in weakness, which parallels his boxing history.
Mark Wahlberg is very passionate about this film, having committed a substantial amount of his own money into the project. The story of Father Stuart Long is told with clarity, heart, compassion, raw emotion and a deep sense of God's unending grace.
To Wahlberg, Father Stu is the story of an apparently ordinary man who, through his faith, was able to touch a multitude of people in danger of losing their way. At a moment in the world when, he believes, people are starving for something to reignite their faith, Wahlberg hopes the movie will resonate not only in the Catholic community, but for every denomination and even for nonreligious people.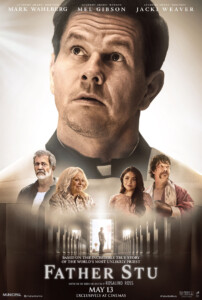 "I've prayed for Stu's intercession every step of the way," Wahlberg says. "I asked, is this what I'm supposed to be doing? Is this what he would want? It's been a massive undertaking, but I feel inspired and encouraged by doing it, and perhaps I can inspire somebody else to continue to pay it forward. I know that God uses us all in His big plan."
Wahlberg is eager for audiences to see the film in the format in which it was intended to be seen: on a big screen with a full house. "If I have to, I will walk from city to city, state to state, country to country encouraging people to go and see this movie wherever they can," he said. "But you need to see it in a theater for the same reason you need to go to a church: to really feel the Holy Spirit. It must be shared. People's laughter, people's emotional response, their tears are infectious. Having that human experience is very, very important."
Father Stu will be released in cinemas across Ireland tomorrow, Friday 13 May.
A faith guide to the movie has also been made available which can be downloaded here.
For more see https://www.fatherstumovie.com.
ENDS 
Photos are copyrighted and may not be reproduced without permission.