Prayer of the Faithful is the title of a new book published by Veritas which is a collection of prayers to assist with the preparation of the Prayer of the Faithful on Sundays and solemnities throughout the liturgical year.
The Prayer of the Faithful is a fundamental part of the liturgy and prompts reflection in parishioners in a unique and special way throughout the Church year. It offers the congregation an opportunity to respond to the Word of God by offering prayers for the salvation of all and to approach God as a community of the faithful.
In this new collection, Father Leslie McNamara has been guided by the General Instruction of the Roman Missal and offers readers a wide-ranging selection of intentions for use throughout the three-year cycle (A, B, C). The wording of the prayers has been specially tailored to suit the particular celebration or Sunday in question, with intentions that respond in a thoughtful and nuanced fashion to the liturgical season, the lectionary readings and the challenges facing both the Church and society today.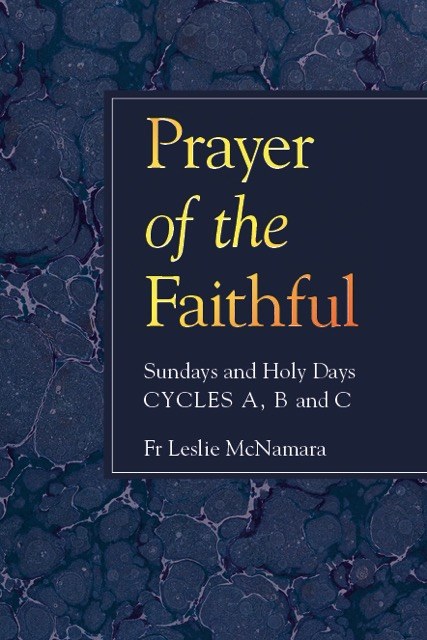 This important work is offered as a resource for priests, leaders of prayer and all who inspire and engage our congregations in worship on Sundays and holy days throughout the year.
Father McNamara is former President of Saint Munchin's College, Limerick and former Director of Vocations for the Diocese of Limerick. Prayer of the Faithful, his first book, is born out of a decades-long devotion to reading and studying the Liturgy of the Word.
Writing in the foreword to the book, Bishop Brendan Leahy, Bishop of Limerick, said that the book is a timely resource that will be invaluable. He said, "The Prayer of the Faithful is the moment in the Mass when we articulate our everyday concerns, both immediate and universal. We bring before God, not only our personal petitions. Our heart is expanded to embrace and pray for the whole world. "
Bishop Leahy said Prayer of the Faithful is a collaborative work, and as such, it includes different voices (male and female) and styles. He said, "My wish is that all who use this book will be helped in articulating the faith community's prayerful outreach in response to God's word."
Prayer of the Faithful is available now from www.veritas.ie.
ENDS