The Diocese of Kilmore has announced the appointment of Leitrim-native, Mr Francis Keaney, as the new Diocesan Director of Youth and Young Adult Ministry.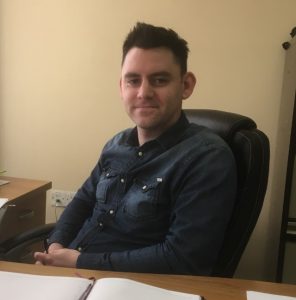 Francis is a native of the parish of Glenfarne, studied in Saint Clare's Comprehensive School in Manorhamilton before undertaking third-level studies in Theology and Philosophy at All Hallows College, Dublin from where he graduated with a Bachelor of Arts degree in 2013.  He then attended Trinity College Dublin from where he graduated with a Higher Diploma in Education after which he moved to NUI Galway to complete his Masters in 2015.
Since then, he has taught in a number of schools including Saint Clare's Comprehensive School in Manorhamilton, Co. Leitrim; Saint Louis' Community School, Kiltimagh, Co. Mayo; and most recently in Roscommon Community College.
He plays an active role in his local parish community of Glenfarne where he is a Minister of the Word in his local church, Saint Mary's, and is a player-member of Glenfarne GAA Club.  He is also involved with the Irish Pilgrimage Trust.  In addition to the GAA, his hobbies include musical theatre and acting.
On taking up his appointment in recent days, Francis said that he was over the moon when offered the job.  He said, "I am very much looking forward to the next few months. Getting to work with young people in any way is great opportunity; but to have the advantage of putting the structures in place to help young people develop their faith is a massive bonus. Over the last few years, I have worked away from home a lot so I never really got the chance to work within my own Diocese before.
"It will be an amazing to go around the parishes and schools and see a few familiar faces now and then. I have been to a number of secondary schools already and the enthusiasm and ambition is infectious. In my experience, young people are always willing to take on new challenges; so it's our job to provide opportunities for them to develop personally, spiritually and professionally. I can't wait for the year ahead and to put my stamp on the Kilmore Diocese."
A spokesperson for the Diocese of Kilmore said, "Francis' recent appointment to this very important position in the diocese was to be welcomed.  Reaching out to our young people is a major priority for the diocese. His appointment will build on the good work already been undertaken with young people in schools and parishes.  His own work will further contribute to the development of a more structured and focused ministry to the young people of Kilmore."
Francis may be contacted at his office in the Kilmore Diocesan Pastoral Centre Cullies, Cavan, by telephone on 049 4375004 (Extension 103) or by email to youthministry@kilmorediocese.ie.
ENDS