Saint Conleth's Parish Newbridge, in the Diocese of Kildare and Leighlin, will be sharing stories of faith and hope during their 2019 Novena. This year's Novena takes place as the parish prepares to celebrate Saint Conleth 1500 – which will mark 1500 year's since the anniversary of the death of Saint Conleth, patron of Newbridge Parish.
The Novena, which has the theme 'St Conleth 1500: Sharing Stories of Faith and Hope', will be opened by Bishop Denis Nulty, Bishop of Kildare and Leighlin, on Monday 29 April 2019.
Other speakers for the Novena include the Papal Nuncio to Ireland, Archbishop Jude Thaddeus Okolo; Local Kildare sporting legend Johnny Murtagh and broadcaster and CEO Theresa Lowe.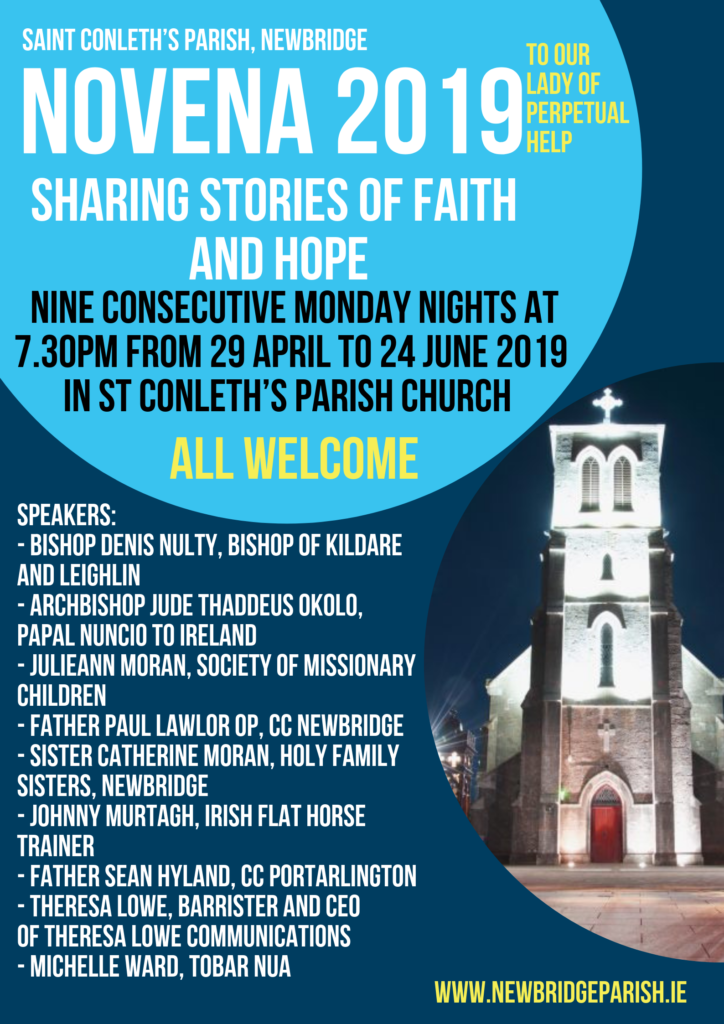 Large crowds are expected to attend the Novena dedicated to Our Lady of Perpetual Help. This year's congregations in Saint Conleth's Parish Church, will also hear from a number of other speakers including two local priests: Father Sean Hyland and Father Paul Lawlor OP.  Father Hyland, who recently spoke to Ryan Tubridy on the Late Late Show, will share his story of love and loss which he had written about in his book 'Whisperings of my Soul'. Father Paul will share his story of working in a parish in Iran.
Sister Catherine Moran, a Holy Family Sister based in Newbidge, will be speaking about the faith contribution of the sisters to the life of the parish while Julieann Moran, National Secretary of the Society of Missionary Children will also share her faith story. There will be a focus on young people too as part of the Novena with input from Michelle Ward of Tobar Nua.
Commenting ahead of this year's Novena, Parish Priest, Father Paul Dempsey said, "Our annual Novena is a special part of the faith calendar of the parish each year. This year's Novena is taking place as we celebrate the 1500th anniversary of the death of St Conleth. He is patron of our parish and indeed we are the only parish in the country named after him.
"In choosing the theme for this year's Novena we were mindful of the long faith tradition in our parish and while we are looking back at the history of Saint Conleth we have asked our speakers to share their stories and to be voices of hope in the present day to our local faith community."
Father Paul continued, "I am always inspired by the hundreds of petitions that are shared with us over the course of the nine nights of the Novena. These petitions offer us a snapshot of the struggles that people have in their lives. They also offer us a necessary moment of pause in rushed and busy lives that remind us of our responsibility as the local faith community to reach out as Christians to those around us who are in need."
Father Paul concluded, "I want to extend an invitation to the local community and to those in surrounding parishes to come and join us for our Novena this year. We have some wonderful faith testimonies to be shared by our speakers, and hopefully these will be stories that will offer hope and encouragement to all who hear them."
For more on the Novena see www.newbridgeparish.ie
ENDS