If you were present at the Requiem Mass and Commemorative Ceremonies for the 1916 Rising, which took place on Sunday 24 April in Arbour Hill church and cemetery, or were watching it on television, you would have seen the Palestrina Choir from the Archdiocese of Dublin performing.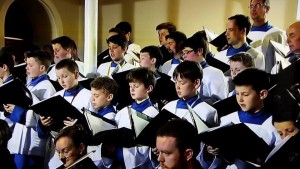 The choir sang Paul Flynn's Aifreann Naomh Padraig agus Naomh Feidhlimidh for the 1916 Requiem Mass in the Church of the Sacred Heart – the church of the Defence Forces – in Arbour Hill, Dublin. The choir also performed David Mooney's arrangement of Deus Meus Adiuva Me.
The choir had the privilege of premiering I see his blood upon the rose, a piece specially commissioned for the Requiem Mass, which was written by Joseph Mary Plunkett and arranged by Conor O'Reilly.  Another highlight of the Requiem Mass in Arbour Hill was the choir's performance of Colin Mawby's arrangement of Soul of My Saviour.
The Palestrina Choir usually sing in Saint MAry's Pro-Cathedral in Dublin at 11.00am Solemn Latin Mass every Sunday (except July and August) and the boys sing at the 5.15 Vespers and the 5.45 Mass on Fridays.
The Palestrina Choir had its origins in a boys' choir formed in the 1890's by Dr. Vincent O'Brien, then a music teacher at Saint Mary's Place Christian Brothers School in Dublin. It was at a performance of Palestrina's Missa Papae Marcelli at Saint Teresa's Carmelite Church in Clarendon Street in 1898 that this choir, and its gifted director, first came to the attention of Edward Martyn.
Martyn was born to a family of Catholic landed gentry in Tulira Castle, Co.Galway in 1859.  He was educated in Belvedere College, Dublin, Beaumont College, Windsor and Christ Church, Oxford. He is perhaps better known for his involvement in the Irish Literary Theatre, later to become the Abbey Theatre, which he co-founded in 1898 with W. B. Yeats, Lady Gregory and George Moore. However, his interest in establishing a national theatre was matched, if not exceeded, by his interest in the reform of liturgical music in Ireland. During his university days, he traveled extensively in Europe, where he was struck by the quality of the choirs he heard in the great cathedrals there. He was determined that the Catholic Church in Ireland should have music of an equivalent standard.
In particular, he wished to promote the music of Palestrina which was espoused by Pope Pius X as a standard to which liturgical music should aspire. Between 1898 and 1902, Martyn worked tirelessly to establish the choir at St. Mary's Pro-Cathedral, Dublin, offering an endowment of £10,000 (in current terms about £800,000) on condition that Dr. O'Brien was appointed choirmaster. The agreement was signed on November 26th, 1902, and the Palestrina Choir was constituted and installed in the Pro-Cathedral on January 1st, 1903.
In the century since its foundation, the Choir has had seven Directors. Dr. Vincent O'Brien, director until his death in 1948, was succeeded by his son, Oliver. In 1978,  Father Seán O hEarcaigh took over the baton from Oliver O'Brien. He was succeeded in 1982, by Ms Ite O'Donovan and in 1996 by Comdt. Joseph Ryan. Ms Órla Barry was then director for five years before being succeeded in 2002 by the current director, Ms Blánaid Murphy.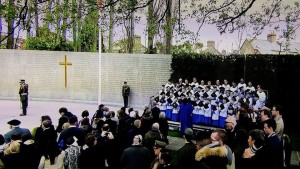 Click here to hear some of the music performed by the Palestrina Choir as part of a short RTÉ News video shared on Sunday 24 April.
For more information see www.dublindiocese.ie.
ENDS