A group of parishes will come together on Sunday 12 June for a mini-Camino walk as part of the Jubilee Year of Mercy.  'Parishes Walking Together' is a cluster initiative of the parishes of Chapelizod, Palmerston, Ballyfermot Assumption, Saint Matthew's Ballyfermot and Cherry Orchard Parish in Dublin.
Jane Mellett, Parish Pastoral Worker for the parishes of Cherry Orchard and Ballyfermot Assumption explains the background to the walk:
"It began in 2012 as a cluster event to mark the 50th International Eucharistic Congress. We also wanted to raise awareness of the cluster group, to help build a sense of community and working together.
"The walk is around 9km in total and pilgrims get a 'pilgrim passport' at the starting church. They get a stamp on their passport at each church along the way, where we also pause for some prayer, reflection and some much needed water. This year we have chosen Luke chapter 15 for our reflections on the theme of Mercy. There is an enthusiastic team behind the walk each year with a representative from each area."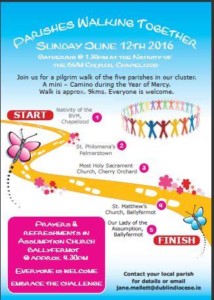 Commenting on this year's mini-Camino walk, Suzanne Greene, Chair of Cherry Orchard Parish Pastoral Council, said, "The walk is a chance to meet our neighbours from other parishes, walking and talking along the way. Sharing thoughts and ideas while strengthening our faith together. The times of reflection in each church remind us that we are walking life's journey together with and for God. There is a great sense of fun and satisfaction as we collect stamps on our pilgrim passports at each Church. During our walk one year briars were creeping across the path. It reminded me that on our journey through life we meet unexpected challenges, but we get through them together."
This year's walk begins in Chapelizod Parish on Sunday 12 June at 1.30pm and everyone is welcome to join.
ENDS