Pope Francis has appointed Dublin priest, Father Fintan Gavin, as Bishop John Buckley's successor in the Diocese of Cork & Ross.
Announcing the news in the Cathedral of Saint Mary & Saint Anne in Cork City, the Papal Nuncio, Archbishop Jude Thaddeus Okolo described it as a special day in the life of the people of God in Cork and Ross.
Bishop-elect Gavin succeeds Bishop John Buckley who has served the diocese of Cork & Ross for over thirty-five years – as an Auxiliary Bishop from 1984-1997 and, from then to the present day as bishop of the diocese.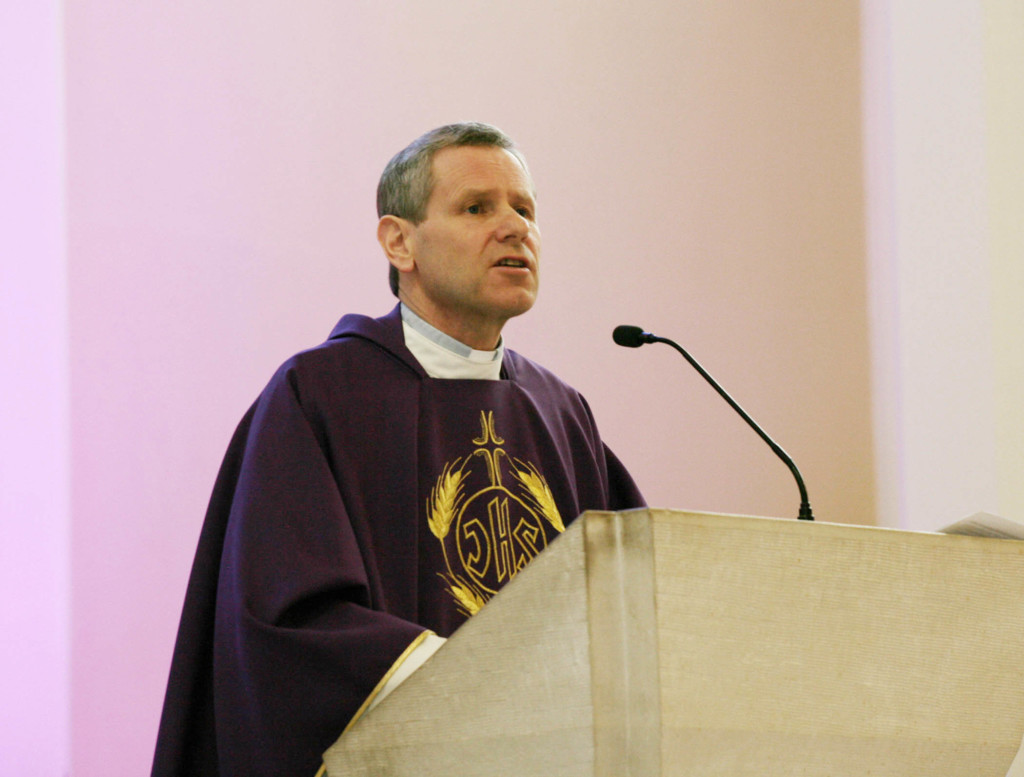 In his address after this morning's Mass in the Cathedral of Saint Mary and Saint Anne in Cork City, Bishop-elect Gavin said he was, "conscious of those who have felt let down by the Church and are just 'hanging in there'." He encouraged them "not to give up".
The 53-year-old also said that leaving his life and ministry in Dublin will not be easy.  He said, "I was very happily serving the Church as an ordinary priest in the Archdiocese of Dublin during the last 27 years since I was ordained in various different ministries. And as a North Side Dubliner I would never have expected such trust to be placed in me by Pope Francis by asking me to serve as a humble servant leader, the People of God, the Body of Christ of the Diocese of Cork & Ross."
Welcoming his successor, Bishop Buckley described his appointment as "a new beginning". He also joked about the appointment of a Dubliner to Cork but reassured Father Gavin  that the people of Cork will give him a 'Céad Míle Fáilte'.
Bishop Buckley said, "It is a great honour for a Dublin man to be promoted to the real capital of Cork! We always think down here that there are only two categories of people in Ireland, Cork people and those who wish they were Cork people! You have now obtained your wish thanks to Pope Francis."
Bishop Buckley also outlined the changing context in Cork that the new bishop will face. He said, "At a time of unprecedented change in our country, particularly in recent years, Cork too has changed over the years, mushrooming housing estates, new motorways, expanding industrial plants, developments in education, communication and cultural activities."
Bishop Buckely said that people are looking for something more satisfying than the consumer lifestyle. He said, "We see it in the handing on of the faith in the home, the appreciation of the importance of the family and in the work of teachers in the school."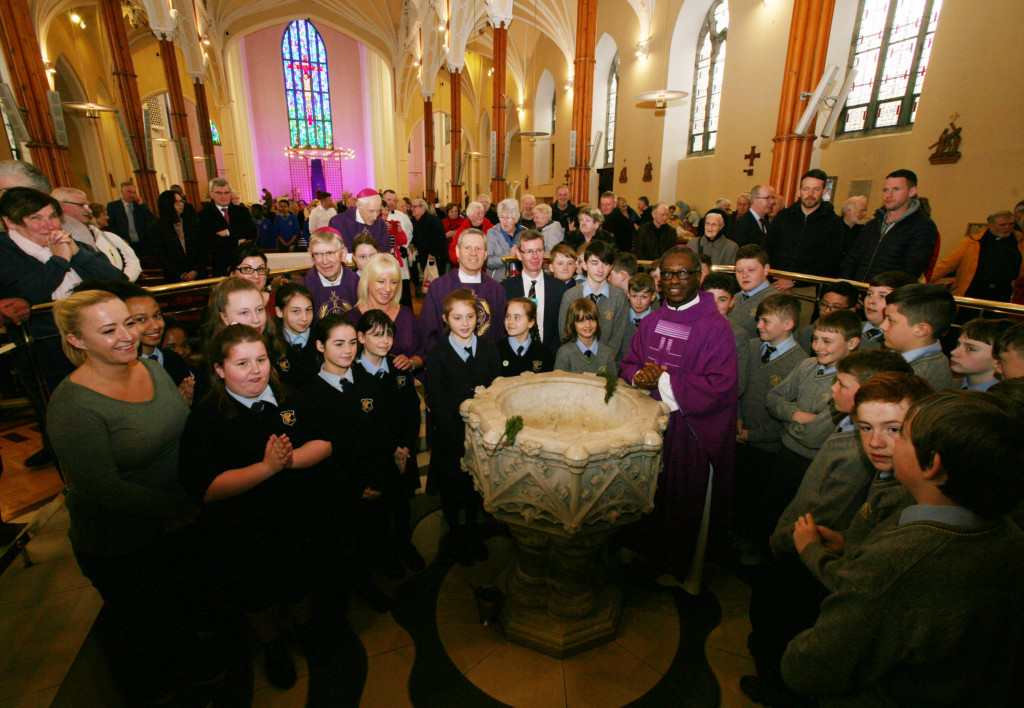 Welcoming his appointment, Archbishop Diarmuid Martin of Dublin said, "Father Gavin will be missed in our diocese where he is known for his experience, knowledge and personal warmth.
"I am personally very pleased that his contribution has been recognised by Pope Francis and that he will have a an opportunity to bring his gifts and wide pastoral experience to the Diocese of Cork and Ross. He will be missed by all of us in Dublin but I know he will minister to the very best of his ability for the people of Cork and the wider Irish Church at the Bishops Conference level."
Archbishop Martin paid tribute to Father Gavin's ability to reach out to young people in the diocese of Dublin working with a variety of youth groups and young adults helping them to grow in faith in a variety of ways.
The Archbishop also praised his recent work developing the Gospel Choir in Our Lady of Victories Parish, Ballymun Road, Dublin, who together with a young adult group animate a Mass for Young People in the parish every Sunday evening. The choir was especially chosen to lead the liturgical singing during the meeting of Pope Francis with engaged and newly married couples at Saint Mary's Pro Cathedral, Dublin, during the World Meeting of Families last August.
Bishop-elect Gavin was born in Dublin on 1 January 1966 and baptised in St Andrew's Parish, Westland Row, Dublin, on 5 January 1966.
He is the second eldest of seven brothers and sisters. His family roots are in Marino, Saint Vincent de Paul Parish, on the Northside of Dublin.
He played hurling and football with Saint Vincent's GAA Club, Marino, and was a member of Marino Athletic Club.
Prior to his seminary formation in Clonliffe College, Bishop-elect Gavin had begun training as a residential social worker in Our Lady's Hostel, Eccles Street, Dublin, from September 1983 – August 1984.
Bishop-elect Gavin was ordained to the diaconate by Archbishop Desmond Connell in the Church of the Holy Cross, Clonliffe, Drumcondra, on 11 March 1990.
He was ordained to serve as a priest of the Archdiocese by the Bishop Éamonn Walsh, Auxiliary Bishop of Dublin, and was appointed to the Saint Vincent de Paul Parish Church, Marino, Dublin, on 7 June 1991.
Bishop-elect Gavin was a priest-teacher at St Thomas' Community College, Bray, Co Wicklow (1991-1994); Chaplain at St Gerard's Junior and Senior School, Bray, Co Wicklow (1991-1994); Parish Chaplain, Holy Redeemer Parish, Bray, Co Wicklow (1991-1994); Priest-teacher, Killinarden Community School, Tallaght, Dublin (1994-1996); Parish Chaplain, Parish of the Sacred Heart, Killinarden, Tallaght (1994-1996).
Up to today's appointment, Bishop-elect Gavin was Chancellor in the Archdiocese of Dublin and Parish Chaplain in Ballymun Road Parish and the Grouping parishes of Iona Road, Drumcondra, Glasnevin, Ballymun Road and Ballygall, Dublin, and Chaplain to the Italian speaking community in the Archdiocese and chaplain to the annual Dublin Diocesan Children's Pilgrimage to Lourdes.
He is fluent in Italian and Spanish and enjoys keeping fit, walking, cooking – especially vegetarian, and gardening.
The diocese of Cork & Ross includes Cork City and part of County Cork.  It has a Catholic population of 220,000 across 68 parishes and its patron saints are Saint Finbarr and Saint Fachtna.
ENDS