Following the devastating explosion on 7 October in Cresslough, Co Donegal, Pope Francis sent a message of condolence to Bishop Alan McGuckian, Bishop of Raphoe, expressing his "spiritual closeness" to the community of Cresslough and people of Ireland, as well as to everyone following the tragedy.  Pope Francis entrusted the deceased to the merciful love of God and implored Divine blessing on all of those who are coping with pain and loss.
In his letter, his Holiness stated that he "was saddened to learn of the loss of life and destruction caused by the explosion."  The letter continued, "As a pledge of strength and peace in the Lord, The Holy Father sends his blessing to all the people of Ireland."
Speaking on the tragedy, Bishop Alan McGuckian, said, "In the wake of this heart-breaking human tragedy, I am asking all parishes in the Diocese of Raphoe to pray so that people can offer comfort and support to each other and to all who are suffering. God always walks with us, in light and in dark, so let us embrace the power of prayer at this time of need and He will be there for us."
Concluding his statement, Bishop McGuckian said, "I have witnessed at first hand the immediate reaction of the local community to the tragedy who, in their bravery, took risks at the site to help others even to the detriment of their own safety.  I wish to commend the first responders, and the emergency services of Donegal and Derry, for their high level of professional cooperation and rapid response."
The magnitude of Friday's explosion has now become clear as the lives of ten victims have been lost in addition to those who are injured and recovering in hospital.
The full text of the message of Pope Francis can be read below: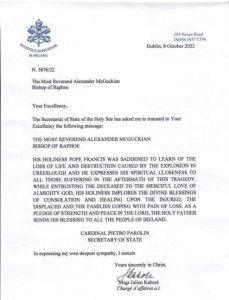 ENDS