Saint Patrick's College Maynooth, have announced two new programmes from September 2019. These are the 'Higher Diploma in Healthcare Chaplaincy' and the 'Postgraduate Diploma in Christian Communications and Media Practice' (in association with Kairos).
The Pontifical University ha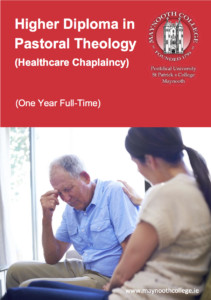 s a long tradition of preparing candidates for both lay and ordained ministry leadership in the Church. One of the primary goals of the Pastoral Theology department is to help people discern a call to ministry, and to train them to the highest standards of formation. Dr Aoife McGrath, Director of the Chaplaincy course said: "We see the need for – and the importance of providing – high quality pastoral care in faith communities."
The new Healthcare Chaplaincy programme will greatly expand the offering of the Pontifical University. This one-year, fulltime Higher Diploma, will provide extensive training in the hospital, clinical setting.
The Pastoral Theology department collaborated with the Healthcare Chaplaincy Board of the Irish Catholic Bishops' Conference in establishing the new programme that will now provide a recognised and direct path to certification as a Catholic Healthcare Chaplain. The Health Service Executive (HSE) has approved this certification, and therefore graduates will have the professional qualifications, skills, and experience to make them eligible for appointment to HSE Chaplaincy posts.
Dr McGrath said: "Our expectation is that the new Healthcare Chaplaincy programme will be attractive for lay people in particular. It will provide them with an opportunity to develop the knowledge and skills that are essential for Catholic Healthcare Chaplains, who exercise ministry leadership in the clinical setting."
She continued: "Being a ministry leader means being a faith-filled witness prepared to work collaboratively with others – in this case, multi-disciplinary healthcare colleagues in the provision of holistic healthcare. It also means having the competence to provide ethically and theologically grounded practice for the sake of high quality pastoral care – in this case, within healthcare institutions."
Speaking on leadership as a central element of the programme, Dr McGrath said: "Catholic Healthcare chaplains demonstrate effective leadership by contributing to the growth and development of healthcare chaplaincy into the future. By training lay candidates for ministry leadership in the healthcare setting, the Pontifical University is preparing the next generation of compassionate and committed Catholic Healthcare chaplains."
Dr McGrath concluded: "Students on the Healthcare programme will develop their skills in professional caring ministry, including leadership in individual and corporate prayer and worship. They will be trained to provide effective pastoral care and support in response to the needs of patients, their families, and staff. They will be prepared to provide quality spiritual care and emotional support to people in the face of intense suffering, grief, tragedy, and bereavement."
ENDS