There was a wonderful gathering on Wednesday 9 January in the Father Peyton Centre, Attymass where Father Tom Mulligan, a priest of the diocese of Achonry, saw the launch of his biography on the life of The Rosary Priest, Father Patrick Peyton, C.S.C. The book was launched by the Diocesan Administrator, Father Dermot Meehan.
Father Peyton, born 110 years ago, in the parish of Attymass, Ballina, Co Mayo, is undoubtedly its most famous son. Emigrating to the United States in the footsteps of other family members he felt called to the priesthood and entered the seminary, as did his brother Tom. During his studies, Patrick became quite ill and begged Our Lady to cure him. Being cured, he attributed his recovery to her and committed to dedicating his ministry to promoting devotion to Our Lady. He was ordained along with his brother and kept his promise.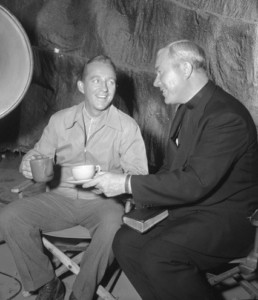 Enlisting the help of many of Hollywood's most famous stars "Of various faiths and none" as Father Meehan put it, Father Peyton reached out to people with a call to pray and, more especially to pray as family. "The Family that prays together, stays together" and "A world at prayer is a world at peace" were two of his most famous phrases.
The author of the book Father Tom Mulligan ministered in Attymass parish for many years and, following his retirement last year, decided to dedicate study and time to a man he had come to know and admire through his contact with the people of Attymass. Commenting on this at the launch, Dara Calleary, T.D., said he knew that Father Mulligan's energy would not allow him to become a full time golfer!! He said, "It is a blessing to us all that his energy was devoted to the research and publishing of this book The Rosary Priest. Senator Michelle Mulherin spoke too of the wonderful work done in Attymass through the Father Peyton Centre and congratulated Father Mulligan on the great work he had done in bringing this story a-fresh to a new wave of readers.
In his opening remarks, Father Dermot Meehan described an elderly parishioner's recollections of her teenage years when she went to Ballaghaderreen in 1954 to hear Father Peyton address a Rosary Rally. Small in stature, she found herself unable to see him, so she crept through the legs of people and around them until she arrived at the front row and could see the man she was listening to. This remains a highlight of her life. It is remarkable that she is numbered among more than 27 million people who heard him speak during his worldwide travels with the Rosary Crusade.
Father Meehan said that while Rosary priest Father Peyton is well known to an older generation, he believes this new book will bring his story to life for a new generation.
Pope Francis declared Father Peyton "Venerable" last year, a significant step on the road to Canonisation. Fr Meehan had commented on this saying "It would be wonderful for our Diocese of Achonry to have a recognised Saint among its numbers".
Speaking at the launch Father Mulligan highlighted the humility of Father Peyton and his total dedication to the promise he made God and Our Lady.  In writing this book he said he wanted to help bring Father Peyton's story to our time.
The book, simply entitled The Rosary Priest is published by Veritas and is the first Biography of Father Peyton to be written in Ireland and, indeed, outside the United States.  It is available in all major bookshops.
ENDS