Thousands of faithful gathered this week at Clonard Monastery, Belfast, for the opening day of the annual Clonard Solemn Novena to our Mother of Perpetual Help, one of Ireland's best-known week long novena's. The nine-day event takes place this year from 14 June to 22 June.
The theme for this year's Novena is 'Home is not a place, it's me and you'. This theme was chosen in response to Pope Francis' Apostolic Exhortation Amoris Letitia (The Joy of Love) and will explore various aspects of family life and the church of the home, particularly in preparation for the World Meeting of Families which will take place in Dublin in August 2018.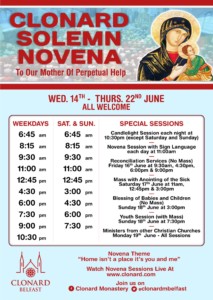 Throughout the Novena, Mass and prayers will take place numerous times each day in the monastery church. A special Mass with sign language will be celebrated each morning at 11.00am, and on weekdays, prayers will close with a candlelight session each night at 10.30pm.
On Saturday 17 June, Mass with Anointing of the Sick will be celebrated at 11.00am, 12.45pm and 3.00pm. A Blessing of Babies and Children will take place at 3.00pm on Sunday 18 June, followed by a youth Mass at 7.30am.
On Monday 19 June, all prayer sessions will be led by ministers from other Christian Churches.
Guest preachers during the Novena will include Father Michael Kelleher CSsR, Youth Minister and former Provincial of the Redemptorists in Ireland; Father Brendan Kelly CSsR, Secretary General of the Redemptorists worldwide; Ms Anne Walsh, Canadian Redemptorist Lay Minister; and Father Michael Brehl CSsR, Superior General of the Redemptorists worldwide.
Speaking on the first day of the Novena, Father Noel Kehoe CSsR, Rector of Clonard Monastery, said, 'People began arriving for the Novena at around 6.00am this morning, and it has been since with each session packed to the rafters,' also noting that the reception for the first guest preacher, Ms Anne Walsh was 'fantastic'.
Father Kehoe added, "There has been such a great buzz about the place since things began earlier today, and we are expecting this to continue throughout the rest of the days."
For those who cannot attend the Novena, all prayer sessions will be live streamed through the monastery website, here.
The Redemptorists, a religious congregation of priests and brothers, live in community in order to preach the Good News of plentiful redemption. They were founded in 1732 in a village called Scala on the Amalfi Coast, Southern Italy by Saint Alphonsus Maria de Liguori. Today more than 5,000 Redemptorists minister in nearly 80 countries worldwide.
In Ireland, the Redemptorists came first to Limerick in 1852. Other foundations soon followed in Dundalk and Clonard. Today, Irish Redemptorists minister in Limerick, Dundalk, Belfast, Galway, Dublin and Cork, as well as overseas in Brazil, the Philippines, Mozambique, Rome, and Siberia.
For more information, please see www.clonard.com.
ENDS