Trócaire, the overseas development agency of the Catholic Church in Ireland, has won Gold at Bloom 2018 for its garden that brings to life the stories of human rights defenders in Palestine, Guatemala and Zimbabwe. Bloom is Ireland's premier gardening festival, launched by Bord Bia in 2007 primarily as a promotional vehicle for horticulture
'Resistance, a Garden for Trócaire' tells the stories of courageous people we work with who speak-up in defence of people, land and the environment. The garden won Gold in the medium-size Concept Garden category.
Following the win, garden designer Barry Kavanagh said, 'I'm delighted to win a gold for not only myself but for Trócaire and all the people they support. I'm passionate about the environment and after reading the Trócaire brief I couldn't turn it down. I'm grateful for the support of my friends, family and those who worked on the garden with me in the short timeframe.'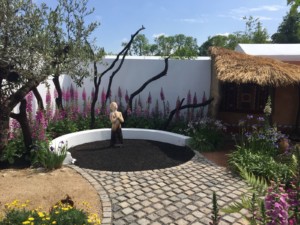 Trócaire's garden of resistance represents the plight of human rights defenders who are risking their lives and safety to protect their homes, way of life and communities from exploitation and eviction.
The garden is broken up into three areas of geographical representation; Palestine, Guatemala and Zimbabwe. Each section represents how human rights defenders in those countries are standing up for people at threat of eviction and violence.
The Zimbabwe section illustrates a water resource being polluted by a mining company, while the Guatemala area is dominated by a scorched piece of land to represent how indigenous communities are evicted to make way for private businesses.
The Palestine section features a stunning mural by Ciaran 'Yohan' Brennan of an Israeli man and Palestinian woman standing together to protect an olive tree, a symbol of peace in the region.
The garden is surrounded by Irish plants, representing people in Ireland embracing the people who are at the forefront of the struggle for justice in Palestine, Guatemala and Zimbabwe.
A digital screen depicts those who have lost their lives while defending both human and environmental rights.
For more information on the work of Trócaire, please see www.trocaire.org.
ENDS