The Vatican has launched an athletics team with the aim of competing in international competitions including the Olympics.
 About 60 Holy See runners – Swiss Guards, priests, nuns, pharmacists and a 62-year-old professor who works in the Vatican's Apostolic Library – are the first accredited members of Athletica Vaticana (Vatican Athletics). It is the latest initiative in the Holy See's long-standing promotion of sport as an instrument of dialogue, peace and solidarity.
Team members wearing navy track suits bearing the Holy See's crossed keys seal attended yesterday's launch which was overseen by represententatives from the Vatican's Pontifical Council for Culture including its President, Cardinal Ravasi and its Secretary, Dublin-born Bishop Paul Tighe.
The inspiration for the track team came from a group of Vatican employees who meet regularly along the banks of the Tiber, which curves through Rome just a few hundred yards from St Peter's Basilica.
The youngest club member is a 19-year-old Swiss Guard, while the oldest is a 62-year-old professor who works in the Vatican's Apostolic Library.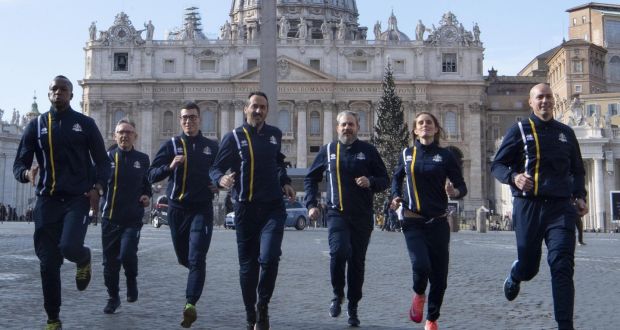 It could be a while before the Vatican's yellow and white flag flutters over the Olympics, but the Holy See team plans to participate in other competitions, such as the Mediterranean Games and the Games of the Small States of Europe – open to countries with fewer than one million people.
The club, called Vatican Athletics, will compete for the first time this month, when members take part in a run in Rome, La Corsa di Miguel.
The Vatican formed its own cricket team, the St Peter's XI, in 2013 and it has since toured England, competing against local clubs and Church of England teams. It recruits from Catholic priests and seminarians in Rome who come from cricket-loving nations such as India, Pakistan, Australia, England and South Africa.
ENDS