We continue our blog from World Youth Day from Brother Martin Bennett Ofm Cap from today, Thursday 28 July 2016:
Today the Irish pilgrims attended a catechesis session with Archbishop Cupich of Chicago. In his catechesis he encouraged the young people to live mercy through engagement. 'Get involved in your local Church, as ministers of the Eucharist, of the word; whatever you do, share your talents; get involved.' His message to the young Irish pilgrims was clear: the Church needs your energy, your talents and your lived expression of God's Mercy.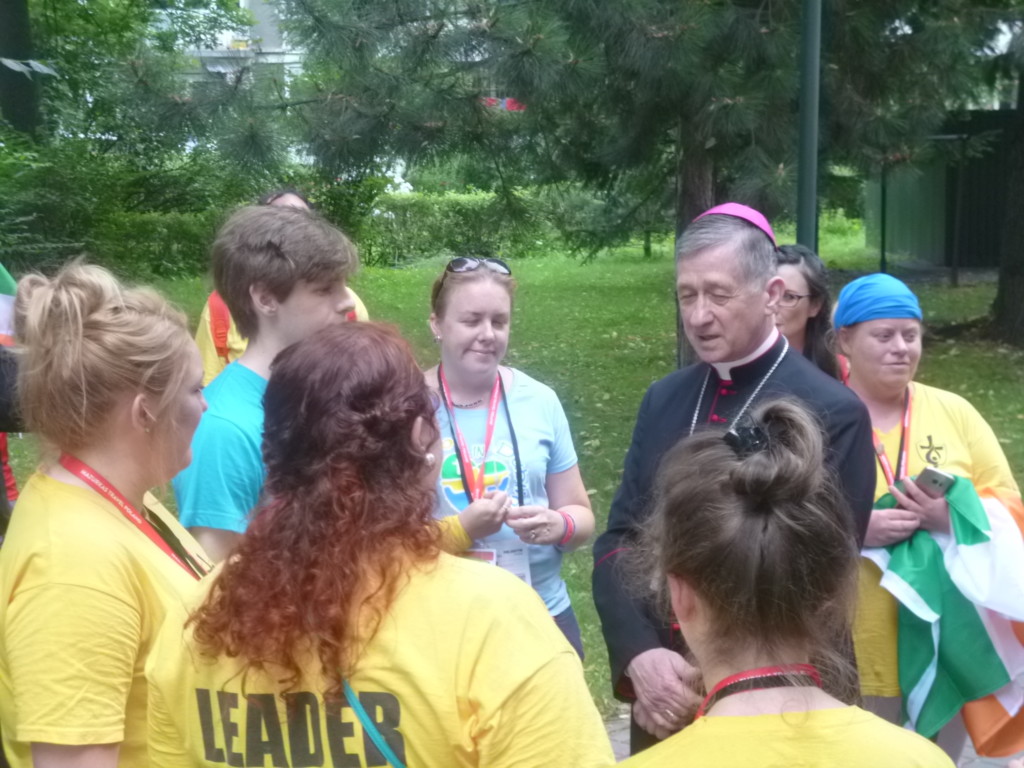 The church was packed to capacity and pilgrims spilled out onto the grass outside as they listened attentively to the archbishop's call to intentional discipleship. After the catechesis he took time to mingle with Irish pilgrims and pose for the odd selfie!
This afternoon the official pilgrim welcome for Pope Francis took place. Pope Francis encouraged the young people to use their zeal to change the world and to change the hearts of those who say that nothing can change.
The message of Mercy presented by Pope Francis is a message of encouragement and engagement; a message of life and for life. The Pope reminded the young people that 'mercy always has a youthful face' and so put young people at the heart of the Church's mission of mercy. He went on to say that 'the heart that's ready to dream has room for Mercy' and encouraged the young people not to 'take early retirement' but rather to 'find fulfillment, to gain new strength' and he says the way to this 'is not a thing or and object, but a person, and he is alive. His name is Jesus Christ: Jesus Christ is a gift, from the Father; our Father.'
Tomorrow, Friday, the Irish pilgrims attend catechesis lead by Archbishop Diarmuid Martin, Archbishop of Dublin, as well as participating in the Mercy walk to the shrines of Saint John Paul and Saint Faustina. Tomorrow evening, they gather again with the main pilgrim  group for the Stations of the Cross in Blonia Park.
That's all for now.
Brother Martin